Why is our resistance bands set better than others?
1.Visual label code: The resistance loop bands have a visual label code that allows you to avoid guessing before training.
Yellow 10 lbs, Green 20 lbs, Red 30 lbs, Blue 40 lbs, Black 50 lbs, All workout bands are 47-inch.
2.Quickly Add Multiple Bands: Unlike other exercise Bands, the carabiner on the mens arm resistance bands and the D Buckle on the handle can help you connect multiple fitness bands more quickly.
3.Sturdy door anchor:The large-diameter sponge will make the women workout sets door anchor stronger and will not fall off.
A sponge is added at the door anchor to prevent your home exercise strap from breaking and deforming.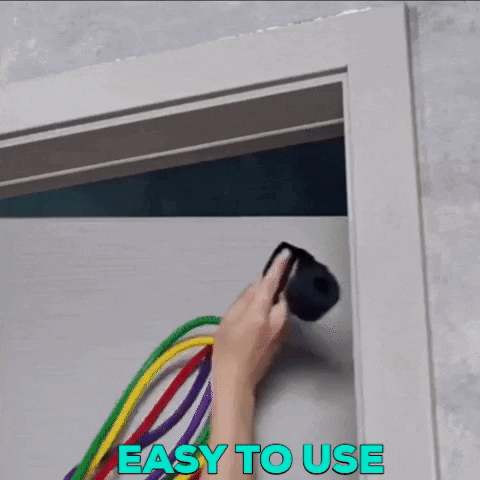 4.More comfortable handle: Arm workout equipment with the non-slip handle is larger than other handles, and it is better to grip during fitness.

The special material makes the handle better absorbent, so that you will not be interrupted by sweat when exercising.
5.Leg and ankle strap with sponge: Our leg exercise with band has a sponge on the ankle strap, which will make you more comfortable during fitness.

6.High-quality materials: Our work out bands is made of 100% premium natural latex, safe and non-toxic, with excellent elasticity, will not deform and break.

Benefits Based on Technical Aspects – More Range of motion, Increases focus on muscles, Engages core and stabilization muscles, Infinite variations of exercises possible.

Benefits Based on Usability Aspects – Fit for all levels of fitness, Best for rehabilitation from injuries, Helps build endurance, Doubles up the benefits when coupled with dumbbells and barbells.
Benefits Based on Commercial Aspects – Cheaper alternative, Occupies negligible space, Carry anywhere while traveling, Exercise with or without a partner.
LatexCros™ Resistance Bands Set Includes :
5 Resistance Bands +1 Band Guard+1 Door Anchor+2 Ankle Straps+2 Handles+1 Carrying Bag+1 Workout Guide
  WORLDWIDE LIGHTING FAST SHIPPING
We are selling our products in US/Europe, good logistics structure allow us to have an edge over competitors and deliver parcels faster than anyone else.U.S orders will be shipped via USPS & FedEx and International Orders will be shipped depending on the fulfillment center the product is from.
24/7 SUPPORT VIA-EMAIL
We have the most friendly customer support, who is ready 24/7 to help you and will do whatever it takes to solve your problem. Every customer is important and will be treated personally. If you want to ask - Contact us.