Say Goodbye to bumps, cuts, and irritation. Get a stubble-free shave in just a few minutes. Perfectly designed for those who have sensitive skin.
OsomRazor™ Electric Head and Face Shaver Shaver is the only thing you need to keep your head clean and smooth-shaven while remaining bump and irritation-free! This durable 6 blade rotary razor has soft alloy blades featuring Advanced Anti-Bump technology, making it safe, easy to use, and convenient while shaving your head and body. Replacement blades are available.
Led Display & Ergonomics Design: Smart led screen will display the time you use and the remaining battery. The travel lock avoids additional power consumption. Ergonomics design offered a better hand feeling, very comfortable to grip and easy to operate, all designs are for convenient shaving.
OsomRazor Blades are made from premium hypo-allergenic Japanese stainless steel. The steel was specifically chosen for its ability to provide and hold an extremely sharp edge while providing a long lifetime. Keeping the precision blades clean will provide you the longest blade lifetime and best performance.
Waterproof IPX6 and Easy Cleaning: OsomRazor™ electric head shaver for bald men
wet and dry is both safe, with soap and cream or without, even in bath or shower, easy to clean. Clean the shaver within seconds due to the detachable shaver heads design and the cleaning brush. Flip up each blade, clean the shaver head with water, or the equipped cleaning brush with no effort.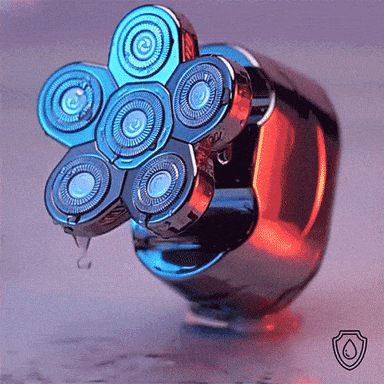 Ergonomic Design: Ergonomic handle provide more confidence and ease of use ensuring a smoother and intuitive shaving of your head and face. Perfectly fits in your hand allowing easy access to all areas of your head.