TRENDY & STYLISH
Our Pelle® Diaper backpack, designed with attention to detail, to help carry all your baby essentials. This is perfect when travelling, hiking, shopping or even simply taking a walk around your neighborhood.
Array of pockets to compartmentalize your baby bottles, water bottles, baby clothes, diapers and other necessities, and is attachable to the stroller. This can easily be substituted for a backpack, giving you that dual-purpose transferability.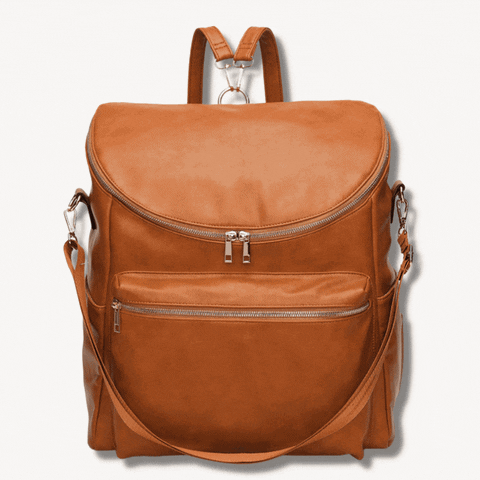 THOUGHTFUL DESIGN
This diaper backpack made of durable PU leather which is waterproof and the spills could be wiped off easily and durable nylon.Smooth zipper that you will use it comfortable.A detachable shoulder strap is presented for convenience to make you easily take out and put in baby essential things.In additional,it's perfect diaper bag for multiple babies.
LARGE CAPACITY DESIGN
Has a Thermal Insulation Bag, a Large Storage box that can hold all necessary and external wiper bags, a Unique Anti-Theft mobile phone, and a privacy pocket with a zipper to store personal items. Its Large Capacity can accommodate laptops or breast pumps.
FASHION DIAPER BAG
This diaper bag has a fashion color scheme and gold zippers that elevate the look. This is not just a "mom bag", it's right for both men and women and appropriate for all occasions. Featuring a trendy and structured design, this diaper back pack satisfies all of the needs of parents on-the-go and also makes a great baby shower gift.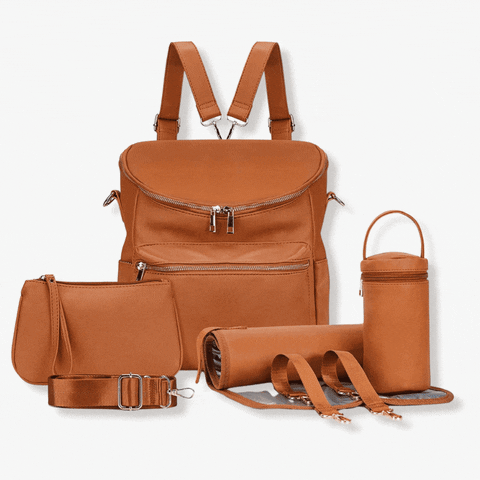 Pelle® luxury diaper bag backpack is made of tear-resistant waterproof leather fabric, sturdy zipper & stitching, great construction, make the diaper bag durable and all the functionality parents need in a diaper bag. A well-made diaper bag works great for you, lightens the load, and makes your busy day just a little bit easier!
EVERYTHING THAT IS INCLUDED 
✔️Pelle®Luxury Diaper Bag Backpack 
✔️Deluxe Pair of Stroller Straps
✔️Shoulder Strap
✔️Sundry Bag
✔️Insulated Bottle Bag
✔️Hypoallergenic Changing Pad
✔️Free Priority Tracked Shipping Worldwide
✔️Risk-free 30-day Guarantee that begins only when you receive the product
SPECIFICATION:
Name: Pelle® Luxury Diaper Bag Backpack
Weight: 2.74 pounds
Dimensions: 14.02 x 12.56 x 4.45 inches
Fabric: Exo Vegan Leather
WORLDWIDE FAST LIGHTING FAST SHIPPING

We are selling our products in US/Europe, good logistics structure allow us to have an edge over competitors and deliver parcels faster than anyone else.U.S orders will be shipped via USPS & FedEx and International Orders will be shipped depending on the fulfillment center the product is from.
24/7 SUPPORT VIA-EMAIL
We have the most friendly customer support, who is ready 24/7 to help you and will do whatever it takes to solve your problem. Every customer is important and will be treated personally. If you want to ask - Contact us.